Belcore Restaurant Florence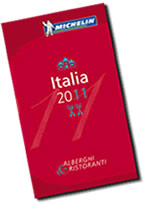 THE FRIDAY of the Republic
9 October 2009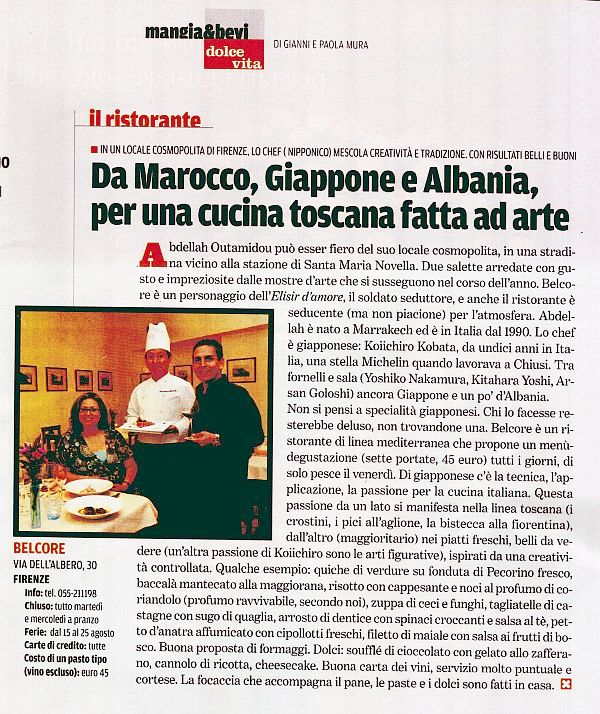 Restaurants – Companies of Taste of IL SOLE 24 ORE
20 November 2009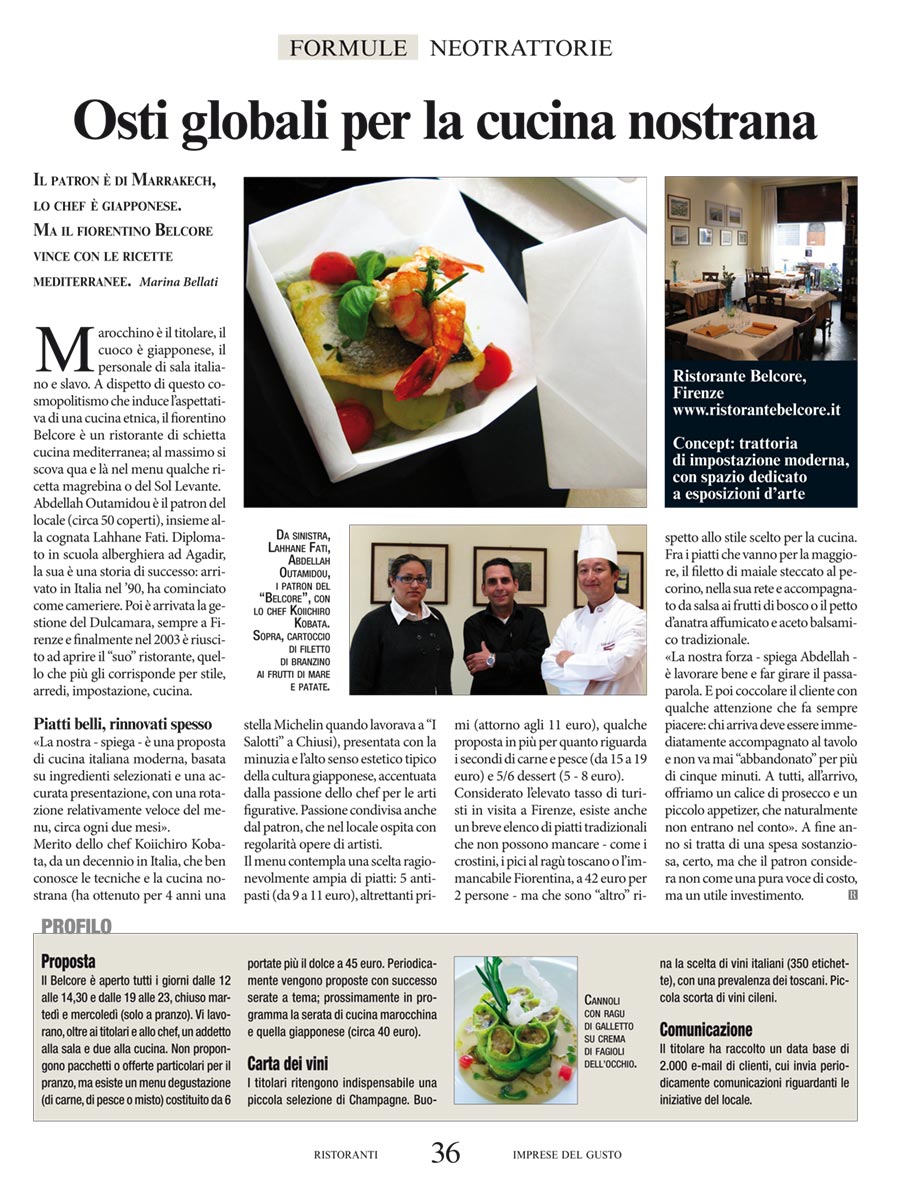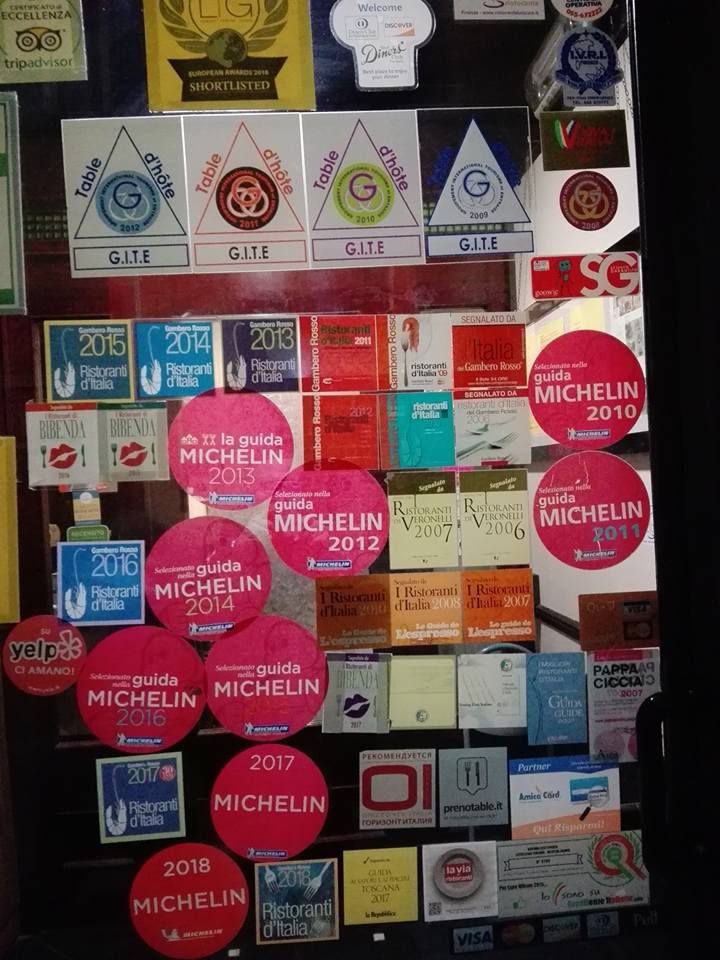 Walking through the streets of Florence on a suggestive spring evening, it is possible to come across Belcore, a gentleman with persuasive manners and a fine gab.
There is certainly no shortage of arguments for Belcore, who knows every secret of the good life and pleasure: after all, it is almost his job, and he has made it a matter of honour, or perhaps of love, to caress taste!
That dude of a Belcore knows how to make himself loved: with a sweet he can set every woman's heart on fire, and with a glass of wine win the sympathy of every man. Because with him it's easy to indulge in luxury and laughter, the inebriation of wine and the ecstasy of the palate.
And since the pleasure of gluttony knows no days of rest, Belcore has found a place to stay, waiting for anyone who wants a moment of pleasure: he stays in the shade of a tree, so big and beautiful as to give its name to the street where it took root…
The story of the Belcore restaurant could be told like that of the character whose name it bears: a place where you can let yourself be seduced by delicious cuisine or by the taste of a fine wine, in a relaxing atmosphere marked by courtesy and hospitality.
Abdel is the host of this island hidden in the heart of the liveliest Florence. It is he who takes you by the hand on a journey through the taste of the creative cuisine of Staff Belcore, all made with the freshest, top quality ingredients, such as fresh tuna steak in a black pepper crust on braised shallots and carrot soup.
To accompany these dishes, it is wise to let Abdel recommend one of the many wines available in the refined Belcore cellar: wines of the highest level at extremely reasonable prices. A golden opportunity to taste vintages and grape harvests praised by sommeliers from all over the world without breaking the bank.
To frame a wonderful evening of pleasure there is finally a list of desserts of no less quality and delicacy. To be accompanied perhaps by a passito wine or long-aged distillates which act as the last caress on the palate.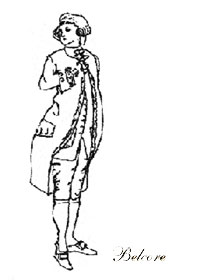 Abdel e Staff propongono cene a tema o dai sapori esotici, per poter offrire ai loro clienti il frutto di tanti anni di esperienza nei migliori ristoranti del mondo.
Dopo cena, le belle sale del Belcore, ornate dai quadri di giovani artisti che ospitano, si trasformano in un vero e proprio salotto. Pochi piatti veloci per uno spuntino fuori orario, dopo il cinema o il teatro, e la possibilita di gustare i vini al bicchiere, oppure una fetta di torta da abbinare a un digestivo.
Per vivere fino a tarda serata la magia di un luogo che ha il fascino malizioso del seduttore di cui porta il nome: Belcore, maestro d'amore. 
LA SEDUZIONE – The Belcore restaurant, in the center of Florence, is a place to indulge in the seduction of good food and fine wine. A refined environment and a relaxing atmosphere in the sign of courtesy and hospitality, this is the essence of the Via dell'Albero 30 restaurant: the beautiful rooms of Belcore are decorated with paintings by young artists, which the restaurant frequently hosts, and they have a capacity of 50 seats.

SEARCHED KITCHEN – The home cooking, creative, is made starting from a meticulous selection of ingredients, all fresh and of first quality. To offer a menu featuring dishes such as fresh tuna sliced ​​in black pepper crust on braised shallots and carrot brodetto, to be accompanied with one of the many wines of the refined cellar (high level and offered at a reasonable price). 

DOLCE CONCLUSION – To conclude the meal at its best there is a rich dessert menu with delicate refinement, to be accompanied with a sweet wine or long aging spirits.
Open for Dinner: Monday to Sunday from 19:00 to 11:30.
Closed every day for lunch.
We accept ATM , Mastercard , Visacard.
Belcore restaurant is in the historic center of Florence 0, 4 km from the Church of Santa Maria Novella.
The restaurant offers a parking agreement with Garage Excelsior in Via Palazzuolo, or in Via Alamagni, in front of the Santa Maria Novella station, at Garage Stazione
BELCORE RESTAURANT IS SITUATED IN VIA DELL'ALBERO, BEHIND THE BASILICA OF SANTA MARIA NOVELLA AND A FEW STEPS FROM THE STATION, THE BELCORE RESTAURANT HAS BEEN THE BEST PLACE IN FLORENCE FOR THOSE WHO WANT TO DINE IN A QUIET AND ELEGANT SETTING. THE CUISINE MIXES TRADITION AND CREATIVITY AND IS MADE WITH FRESH INGREDIENTS AND SEASONAL PRODUCTS. THE RESTAURANT ORGANIZES, ON RESERVATION, EVEN DINNERS WITH MOROCCAN AND JAPANESE CUISINE. VALUE ADDED TO THE LOCATION: ELEGANT BUT SOBER. ON THE WALLS, PAINTINGS AND WORKS BY YOUNG ARTISTS.
WRITTEN BY CARMELA ADINOLFI 
BORN IN 1989. PROFESSIONAL JOURNALIST SINCE 2017, SHE COLLABORATES WITH LA REPUBBLICA FROM THE FLORENCE EDITORIAL OFFICE. HE WORKS AS A FREELANCE WORKING ON FOOD, CURRENT AFFAIRS AND SOCIETY.
We organize dinner for Cermoney Festivals and family Fasitvals on booking for minmum 10 persons.